Introduction
Through the decades the design automation industry has touted accurate simulation of electronic products from concept to production readiness. SPICE simulation for analog and mixed-signal circuitry has been no exception, including its unique ability to mold designs for production compliance. Analyses like Monte Carlo and worst-case simulation mimic variations in real-world component tolerances on a design, so it can be tweaked for acceptable performance. Such variation is valuable because it cannot otherwise be performed with a lab prototype board or production unit.
But establishing good design margins is not the only factor that helps ensure a product's performance merit. What happens when a part goes sour in the field, such as a short, open or stuck-at value, or if a power supply faults? What effect could this have on a product's end use? The product designer should be privy to end-use risk (i.e., security monitor, backup power system, automobile ABS), but the cause and effect of failed parts is something that's best scrutinized early in the design process, not in the field.
Historically, digital simulators have provided fault diagnosis to analyze the outcome of component failures, viewing the effects that faulty devices inflict on critical design signals. Today, such automated capability is also available for analog-based design (and with mixed digital) by way of Intusoft's automated fault simulation. Traditionally without this capability, a designer had to employ any number of tricks to painstakingly insert circuit faults. A super-high resistance value (i.e., 1G ohm) could be inserted as an open condition, or a wire might be inserted in place of a component to impose a short. A certain value might be temporarily assigned to a transistor's temperature coefficient to force "stuck at" condition, or an "open" from base to emitter. Manually inducing thorough fault coverage in this fashion could take days-to-weeks to setup and simulate, including the need to track an immense amount of alteration to the design database.
Automated fault coverage on the other hand spares the designer from this lengthy and impractical task. In short it provides a convenient means of first assigning pass/fail limits to components' electrical properties (i.e., max power, RMS voltage, transistor collector current, rise time, propagation delay, etc.). Signal variation limits are similarly prescribed for desired lines. Then, shorts, opens and "stuck at" values are assigned to passive and active devices, as well as faulty levels for device temperature and power supply sources. After enabling any number of these conditions, fault simulation is run. Resulting electrical measurements are automatically recorded for desired components and signals lines, including readouts that chart numerical data and pass/fail results.
Fault Simulation Setup and Implementation
You prepare a fault simulation (in time or frequency domain) by assigning fault conditions to any device (Figure 7). A type of fault can be prescribed in a "failure mode" dialog box for a part (or optionally all "like parts"), as well as power sources and device temperature. Next, Figure 8 illustrates a one-fault setup for a UC1524 advanced regulating PWM controller circuit. Using the mouse, L1 is enabled as "shorted" amongst a vast collection of other possible faults that were assigned throughout the design.
The engineer also selects which electrical properties of the design to monitor during a fault run. Several signals and devices were selected in Figure 9 for monitoring their "initial value" post a fault simulation. A variety of other selectable measurements are provided in the list. The fault run (time domain) was prescribed over a 1-millisecond period. Figure 10 illustrates the resulting measured "initial value" readings, including pass/fail. However, min/max est limits have not yet been assigned.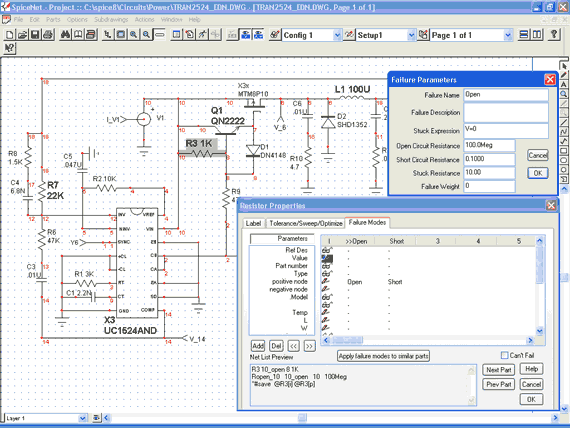 | | |
| --- | --- |
| Figure 7: | Fault setup for R3 |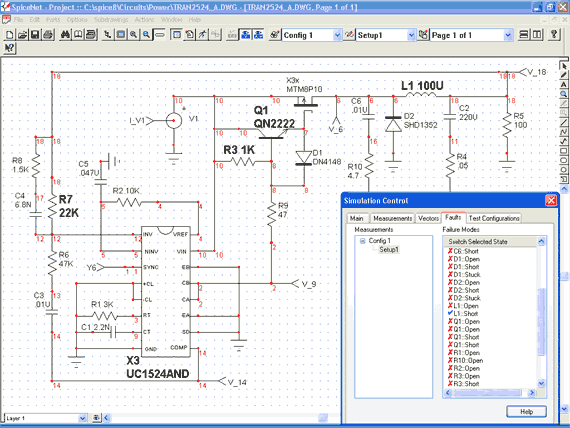 | | |
| --- | --- |
| Figure 8: | Single Fault Enable (L1 Short) |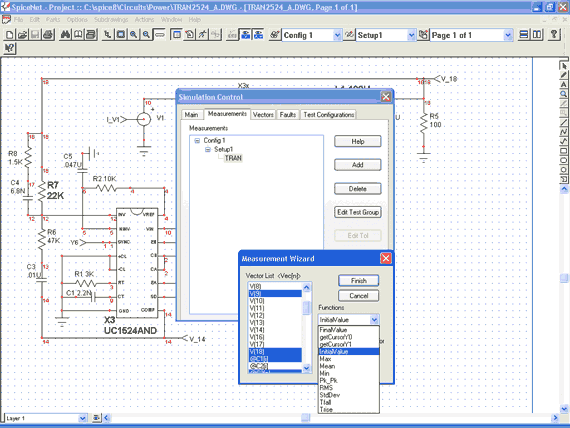 | | |
| --- | --- |
| Figure 9: | Several signals and devices selected to monitor "initial value" or any of the other measurements |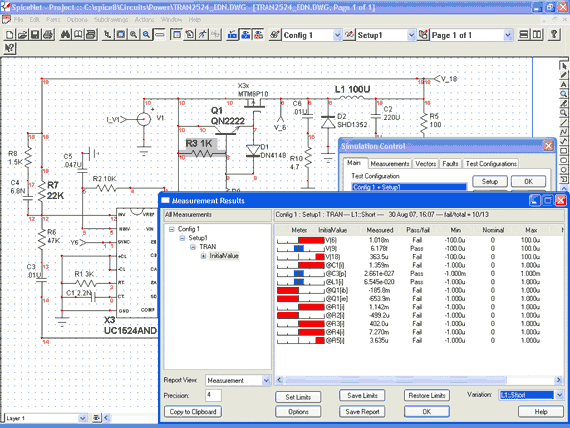 | | |
| --- | --- |
| Figure 10: | Measured results for signals and components selected by the designer, with an "L1 short" fault |
Figure 11 displays multiple faults enabled for simulation. Note that three new faults were added (R7 stuck at 1K ohms, R3 short and source V1 stuck at 4.9v). Post simulation results are shown in Figure 12.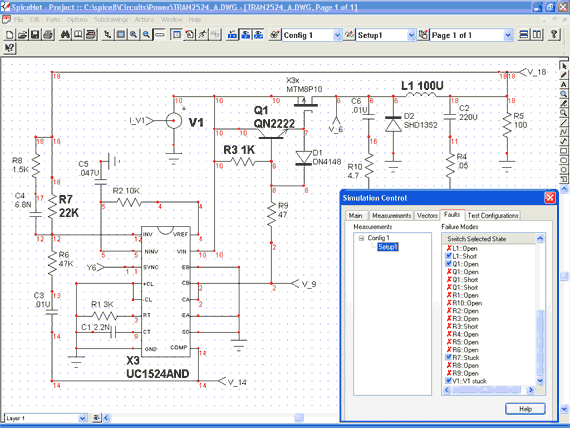 | | |
| --- | --- |
| Figure 11: | Three new faults were added to the list and simulations for the four faults will run automatically |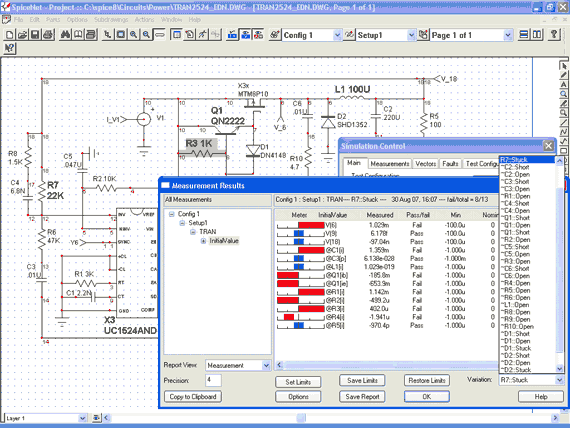 | | |
| --- | --- |
| Figure 12: | Multiple faults simulated with "R7 stuck" selected, which affects the "measured" readings on left |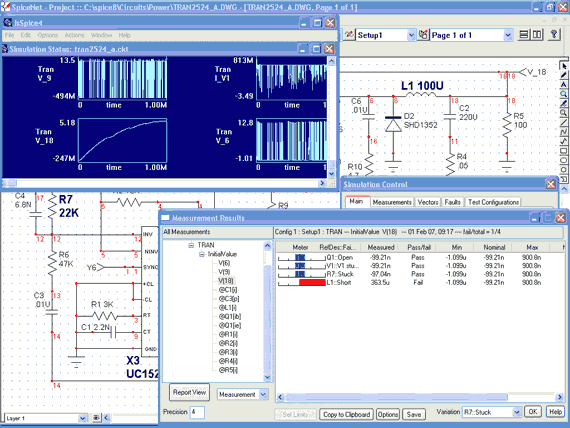 | | |
| --- | --- |
| Figure 13: | Effects of all enabled faults on signal line V_18 |
The top five fault selections in Figure 12's list are enabled (corresponding labels put in bold text on the schematic). After simulation, these faults can be randomly selected from the "Variation" menu as shown, to quickly view corresponding changes in the measured readouts on the left. Figure 13 provides a breakout of the "initial value" devices and signals on the left, showing the measured data (right) that the four enabled faults produced for the selected signal V(18). All of these features provide a fast "what-if" analysis of how faults affect critical devices and signal lines. Also shown are thumbnail simulation waveforms that display in real time during fault runs, with V(18) in the low left corner.
Establishing Design Test Limits
Establishing electrical test limits for devices and signal lines can be achieved in a number of ways. One method of course is to assign them per the designer's discretion. Other ways make use of acceptance criteria from product specifications and component datasheet ratings (i.e., device maximum power). For limits on signal lines, a designer can also run a Monte Carlo statistical analysis, which randomly varies component parameters through their tolerance range, then examines variation on signal lines. Once the circuitry is tweaked enough where variations are acceptable, the range can be used to establish pass/fail signal limits for fault simulation. Such limits are prescribed within the "Set Limits" dialog box for convenience. For example, the (left dialog) in Figure 14 provides a number of ways to open the min/max test limits to accept all measured readings under the present fault at hand (i.e., Q1 open). Sigma limits could have been selected if a previous Monte Carlo run was administered. The "Expand to Pass" option was chosen. Corresponding colored histograms to the right reflect the new "passed" measurements (green). This is useful for quickly studying test limit compliance with successively selected faults, that is, seeing how other faults' measured results comply with the relaxed test limits. For example, when the "R7 stuck" fault was next selected (Figure 15), some of the histograms changed color (failed) despite the new "expand to pass" test limits from Q1 open. Corresponding measured data is also shown.
Conclusion
Knowing how a design will operate under faulty conditions can be examined early in a product's design-simulation phase. Historically SPICE tools have provided powerful ways of varying component tolerances and temperature to study signal variation for manufacturing compliance. This method and other means can also be used to establish pass/fail criteria for acceptable operation under fault conditions. In the end, design safeguards can be incorporated early in the design cycle to help eliminate possible damage from faults encountered in production and in the field.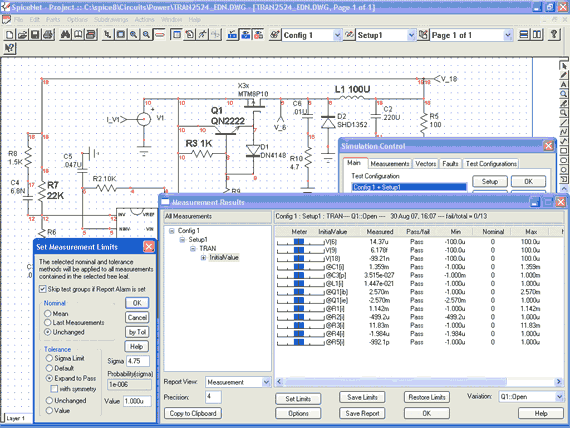 | | |
| --- | --- |
| Figure 14: | "Expand to Pass" option is set, which opens the pass/fail limits of "Q1 open" to pass all measurements |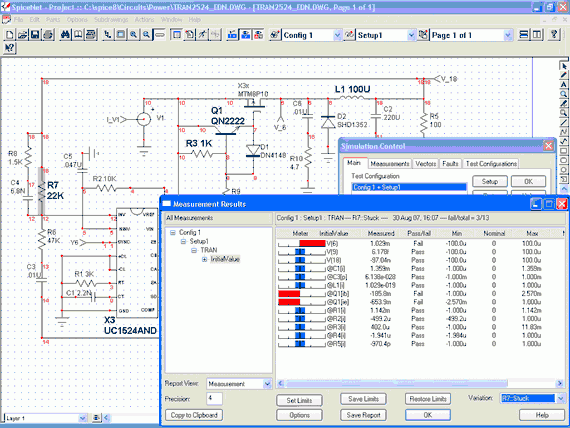 Figure 15:

R7 "Stuck at" still results in some failures, despite the relaxed test limits from

Figure 14