Power Factor Correction (PFC) circuits are used to smooth the current waveforms in power mains by making the real power (average[I(t)*V(t)]) equal to the apparent power (Irms*Vrms). There are 2 benefits of using PFCs. First, the distribution losses are minimized. Minimizing distribution losses lets you get the most out of you infrastructure — for example, running more equipment on the same circuit breaker. Second, power line harmonics are minimized. Minimizing harmonics makes a cleaner environment for other circuits. Sensitive equipment, such as microphones and medical instrumentation, are the main beneficiaries of a low-noise environment. PFC's use switch mode techniques to make the load seen at the power mains appear resistive. This is accomplished by chopping the input current waveform into a series of pulses, applying a control law, then reconstituting the waveform as a DC output (i.e., by using a capacitor to hold up the output voltage when the instantaneous input power is less than the load power). All commercially available PFCs try to match the input current waveform to the rectified main's voltage. They generally use a boost topology, although flyback is sometimes used if a secondary regulator is not required. The bandwidth of a PFC must be lower than the rectified main's frequency. For commercial power systems around the world, that places the bandwidth around 10Hz. Switching frequencies are set by economics. As switch frequencies are increased, the size and cost of the magnetic components decrease until second order effects begin to dominate. Similarly, the semiconductor switches will have increased losses at higher frequencies. Capacitors and interconnections will deteriorate in quality at higher frequencies. Using today's technology, frequencies run from 50kHz up to several hundred kHz. There is a gradual trend toward higher frequencies ascritical component behavior is improved — for example, eliminating diode reverse recovery transients.
The switch level model of a PFC using a SPICE simulator is pretty straightforward. You simply interconnect the parts the way the IC manufacturer depicts them in their data sheet. Use behavioral models for the logic and component-based models for the semiconductors. Magnetic device models can be extracted using magnetic device design programs such as Intusoft's Magnetics Designer. These models take on the order of a minute to simulate 1 millisecond of operation. Only several milliseconds need to be simulated for DC-DC converters. But, a PFC may need to be observed for several seconds to view its start-up characteristics. Trying that with a switching model leads to simulations that may take days to run and require more RAM than the current microprocessors support.
Another type of model is an "Average" model. Average models replace the switches with the average behavior over one or more switching cycles. Average models in general run 100 times faster than switch-based models. One of the more straightforward mathematical implementations is to use difference equations and unit time delays; that is, Z-Transforms. Z-Transforms have been around a long time and are used to describe sample data systems. In theory, they work up to ½ the switching frequency. The difference equations accurately describe the system only at the switching instants. They will describe the switched inductor current only at the switching instants. The average value must be computed based on the behavior of the current over the entire switching cycle. These average currents are used to model the input and output current, while internally the model works at the switching instants. With a Z-Transform based model, it's possible to get a DC operating point and to describe the AC transfer function. The AC analysis falls out because the unit time delay is a simple transmission line that has well-defined frequency domain characteristics.
PFC average models are somewhat different than the ones used for DC-DC converters because they must account for input voltage approaching zero. At some point, the converter will not be able to generate enough flyback voltage to produce any output. This is a unique mode and can be a source of line harmonics, especially for critical mode or discontinuous mode controllers (See Mode Sidebar).
Intusoft is in the process of modeling the 3 basic PFC topologies: Critical Mode, CCM and DCM. The grandfather of PFC's, the UC1854 (otherwise known as UC3845), is usually used as a CCM device. Building the switched model and using the Unitrode reference design, you can observe (Figure 9) that it never drops into DCM. Instead, a new mode is entered when the charging current is too small to generate the required voltage for the output to conduct. When that occurs, the initial current at the beginning of the switching cycle is negative. For all input voltages greater than zero, there is an average input current. The following equations describe what happens:
F = switching frequency
T = 1/F
Don = Commanded duty ratio, Ton/T
Dr = Duty ratio of rise time, Tr/T
Doff=Duty ratio for output conduction, (1-Don-Dr) or zero
L = switched inductor value
C = switch capacitance
Tr = voltage rise time
During Tr, the average output voltage is Vp*2/

and we assume the current change will be (Vp*2/

-Vi)*Tr/L. Vp is mode dependant. If the diode conducts, it's the output voltage for a boost mode controller. Otherwise it's the peak flyback voltage. Rather than going through the detailed equations (you can find them in the hierarchical model posted on the web for our users) we will point out some of the tricks and pitfalls to be aware of when making these kinds of models.
One of the more annoying problems is the tendency for the numerical iterations to divide by zero. You must protect divide operations as we have shown in the past as follows:
B node1 node2 v=v(den) > 0 ? v(num)/(v(den) + 1u) : v(num)/1u
It's usually pretty clear that there isn't a useful solution for v(num) == 0, however, during the process of numerical iteration the zero value is likely to occur, usually on the first iteration. When that occurs, SPICE3 places BIGNUM in the result. BIGNUM is 1e100. Such a large number makes the matrix nonsense and you get a convergence failure. Notice that we also match a smooth transition in the else case so the solution can get back on track.
If you use transcendental functions such as asin(), then hidden in the evaluation of its derivative is a divide by zero. Remember derivatives are used to load the small signal conductance back into the matrix. You should use a polynomial approximation or piece-wise linear table to get rid of that one. We've added a warning in our next update if this type of operation occurs. When you see this new warning, you may also get seemingly unrelated warnings on other devices. That's because BIGNUM messed up everything!
It seems that no matter how careful you are, mode switches will add a glitch into your model. It's common to oscillate or get convergence failures near mode switch events. There are 2 ways to deal with the problem. First, introduce hysteresis in the mode switching logic; you can use the SPICE3 switch to do that. Second, make a fuzzy-smooth transition. Borrowing from fuzzy logic, you can join 2 control modes using a sigmoid function. The sigmoid function:
Vs = 1 / (1+exp(-M*Vi))
Goes between 0 and 1 as Vi passes through zero. M determines the direction and smoothness of the transition. If Vi is used for mode detection, you can join to computation, say for Doff, as follows:
Boff Doff 0 v=v(Vs)*v(mode1) + (1-v(Vs))*v(mode2)
You can adjust M to the degree of smoothness needed. This model is now available as fuzzyMux on our web site.
Switch mode power supplies generally use a diode as one of the switches. When either the diode or the semiconductor switch is always conducting, the mode is called continuous conduction mode, CCM. CCM operation is easy to model because you can use superposition. Discontinuous conduction mode (DCM) occurs when neither the diode or the switch conduct. DCM is more difficult to model because you must break the operation into 2 parts - when the switched inductor conducts current and when it doesn't. This is a fairly simple view because we've failed to account for resonance or forced commutation. Still, these models perform well in the right application. A third mode called Critical Mode occurs when the converter is always in the transition between CCM and DCM. By operating at a constant peak input current, the frequency is varied to modulate the power delivered.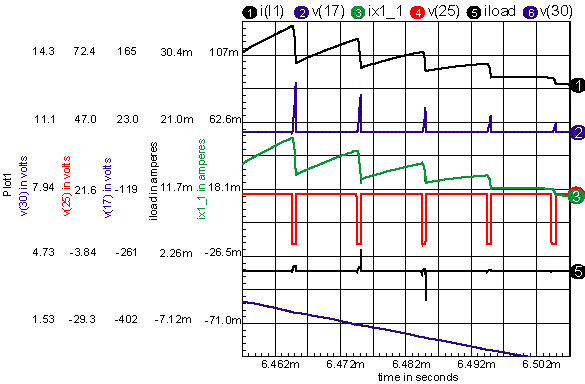 Figure 9: The input current continues to conduct even when the load current vanishes. Waveforms are: 1) input current 2) flyback voltage 3) switch current 4) output current 5) rectified input
TOP