EDIF Capability Coming
SpiceNet will create a Mentor compatible EDIF description that works with their DxAnalog and PADSAnalog products. That lets you use ICAP/4 for the design phase and transfer production to the Mentor products.
Coming soon is a Layout and Auto Routing package. We'll let you know as we fill in the details.
Connect Current Test Point to Subcircuit Pins
For our next update, we will advance the file system to version 13. This step was needed in order to manage the saving of certain Edit Control dialog settings. In addition, we've added the capability to place current test points on subcircuit pins. Placing the y.6 symbol on a subcircuit pin achieves this. Try either of two methods: 1) Pull down the parts menu and select "Y Test Point/6y Current Subcircuit," or 2) press the key "6" then "y." The test point is drawn at the insertion point. It can be dragged anywhere on the drawing. When it is placed on a subcircuit pin, it attaches to the pin and creates a voltage source in series with the appropriate alias as shown below.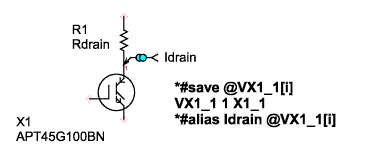 The subcircuit test point creates a voltage source and an extra node to measure the current. The new test point is saved into the new file version. Saving to a file version older than version 13 will delete the test points.
Test Point Support Added to B-Elements
You will now be able to assign current and power test points to B-elements.
IntuScope Now Reads in CSDF File Format
Scope5 can now read CSDF( Common Simulation Data File) file output. This is particularly useful for importing raw waveform data from IsSpice4 or other external simulation offerings like HSPICEtm and PSpicetm.
Successfully Reduce Schematic Image for Publication
Certain features are now available for transferring schematics for publishing purposes. For example, when you shrink a schematic to fit in a small space (as done in our newsletter) the line widths may become too small. Other flaws can also occur. Techniques to successfully reduce schematics for publication are:
1. Increase font size to 16 point.
2. Increase line width to 50/100 millimeter.
3. Print, Copy to clipboard and paste into you target publication.
4. Shrink the schematic in the target publication by 50% to get 8-point fonts and 1-point lines.
Save Schematic Image Directly to EMF File
Copy to clipboard in SpiceNet now has extra shift key options. When you press the shift key and left click on Copy to Clipboard in the print dialog, you get the dialog shown below, Figure 9.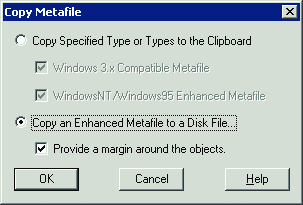 Figure 9. Save directly to EMF file instead of to the clipboard.
You can also save Enhanced Metafiles to disk. The EMF format is the preferred Windows clipboard format. It saves drawings and graphs as vectors so that you can render to the precision of your output device.
"Save as" added to SpiceNet File Menu

Figure 10. New Save as... command
"Save as…" has been added to the SpiceNet file menu, adding to the existing "Save Copy as…" The difference between the two is that "Save as…" abandons the current drawing and saves changes in the new "Save as…" file. It then switches the project to this new file. "Save Copy as…" works as before to produce a back up copy, but retains the current drawing as active. This adds to recent capability that enables projects to automatically switch to the drawing that the user desires as active, ultimately to invoke simulation control and running simulation.
XML Database for PCB Footprints
An xml database has been added for selecting part numbers and mechanical footprints, i.e., as required for PCB layout. When you right click on a part and select the Footprint… option, a dialog as shown in Figure 11 will appear.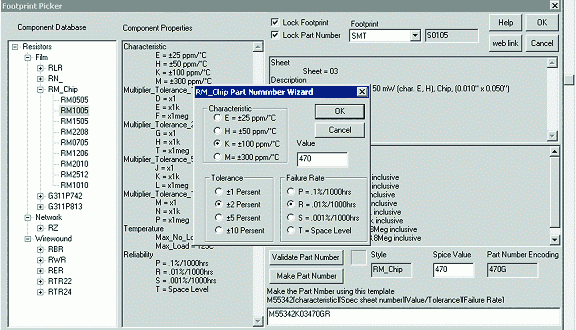 Figure 11. New Footprint Picker builds part numbers and selects package footprints
The xml files are named ??.type, where ? is the spice key for the part. For a resistor, the database is RR.type. We have initiated databases for resistors, capacitors and inductors using the NASA Parts Selection List, NPSL:
The list is comprehensive, and generally parts are also available to commercial specification. We've added built in parsers to help build the part number as shown in Figure 11. User DLL's can be added to augment or replace the built-in parsers.
The benefit of this feature is that it makes it even easier to be able to export PCB netlist with the correct syntax. Intusoft currently supports PCB netlist export to any package that can read in the following formats.
Tango PWB - Netlist for Accel
Pads 2000 - Netlist for Pads
Pads ASCII 1 - Netlist for Pads
Pads ASCII 2 - Netlist for Pads
Pads PCB- Netlist for Pads
Mentor V6 - Netlist for Mentor Graphics
OrCAD/PCB II - Netlist for OrCAD Capture PCB
Protel PWB - Netlist for Advanced PCB
Winboard - Netlist for Ivex
New XP Style UI
If you like the new XP-style dialog user interface, it will be available on XP machines simply by selecting Display Properties/Appearance/Windows and Buttons/Windows XP style.